Thin Film Target for Solar Cell Application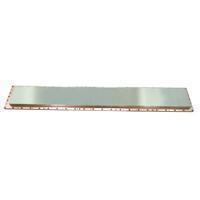 Ag target for Thin Film Solar Cell
Thin Film Target for Solar Cell Application

Our Company mainly provides various sputtering targets for producing amorphous-Si and CIGS thin film solar cell.


See more complete detail
Application


Thin film process

TCO

Metal

Absorber

α-Si

Ag for reflective and conductive layer.

NiV for protective layer.

Ti for protective layer.

─

CIGS

Mo for conductive layer.

Characteristics
α-Si Production Process


Ag target:Uniform and delicate grain, affluent supply of silver, and comprehensive service containing production and refining.

Ni-V target:Uniformly distributed grain spread and ingredient.

Ti target:Unique shear control production process, special bonding process.



CIGS Production Process

Cu-Ga target, In target, Cu-In target, Cu-In-Ga target: It is a new production process developed solely by ThinTech, with its excellent uniformity in target ingredient, which may be beneficial to domestic target production in the future.