Sputtering target for ODS (Optical Data Storage)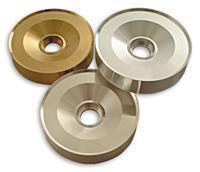 Sputtering target for ODS.
Storage medias are ODS (Optical Data Storage) and MDS (Magnetic Data Storage). The ODS can be classified as CD, DVD and BD series and film characteristics, sputtering efficiency are requirements during manufacturing.
In order to supply high cost-effective products, TTMC focus on target cleanliness, microstructure, refining and develop integrating technology and service which lead us became the major supplier of ODS sputtering target internationally.
Application
Reflective layer: Ag, Ag alloy, Cu alloy, Al alloy, Si.
Dielectric layer: ZnS, Ge.
Product Advantages
Ag target:

Import high purity silver for smelting to ensure sputtering efficiency and film quality.
Continuous production process to reduce lose and cost.
Ag alloy target:

Apply to reflection layer of high capacity ODS (e.g. DVD-9, DUAL, BD), the film layer has good uniformity and weather fastness.

Cu alloy target:

Imitation gold color for CD and DVD disk.

Al alloy target:

High purity, optimized mixture, homogeneous microstructure and refined grain.
Type

Item

Application Layer

Material

Sputtering Equipment

Pre-Record Disk, Read Only

CD

Reflective

Al Alloy,

Cu Alloy

Singulus, Unaxis,

M2, Shibaura, ODME

VCD

Reflective

DVD-5/9/10/14/18

Reflective/ Semi reflective

Al Alloy,

Ag Alloy, Si

BD/HD-DVD

Reflective

Ag Alloy

Recordable Disk

CD-R

Reflective

Ag

DVD-R

Ag, Ag Alloy

BD-R

Ag Alloy

Re-Writable Disk

CD-RW

Reflective

Dielectric

Ag, Ag Alloy,

Al Alloy

DVD-RW

DVD+RW

DVD-RAM

ZnS-SiO2

BD-RW