Decoration & Functional Coating Sputtering Target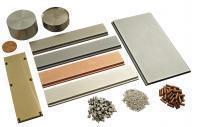 Decorative application
Sputtering process apply not only for optoelectronics, semiconductor but also surface decoration and function coating such as cutter, tooling, anti-corrosion, optical glasses. This coating can increase the product luster, anti-abrasion and lifetime.
Application
Decoration: Al, Cr, Ti, Nb, Cu, Zr and alloy metal.
Electromagnetic Interference (EMI): Cu, Ni alloy, SUS, Ag.
System in Package (SiP): Fe alloy, Co alloy, Ni alloy.
Non Conductive Vacuum Metallization (NCVM): In, Sn, Si alloy.
Product Advantages
Customization production.
Capability to manage the alloy ratio, microstructure, grain Refinement.
In-house control for target forming, machining and bonding to ensure product quality.
Competitive edge of localized service.