puttering target for Passive component, optical element and semi-conductive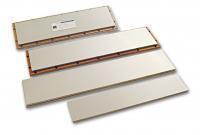 Sputtering Target
TTMC dedicate on high purity target development and uniformity of alloy which lead to develop Know-how for microelectronic applications
Production of the micro-electronic elements must retain features of large production scale, small physical dimension and small performance variance, since the purity and uniformity of the material are all required for producing the thin film of the final product. In addition, precision ingredient combinations also significantly affect the thin film electronic properties of these products. Based on this concern, apart from developing high purity target, TTMC also aims at the additive arrangement of the alloy element as well as the uniformity of content texture that explores many know-how technologies to support sputtering targets employed in micro-electronics.
TTMC possesses the capacity for developing and manufacturing target made by dual alloy and many other ternary alloys and even higher. Not only precisely controlled hot rolling process that guaranties grain texture less than 30μm after crystallization but also maintaining fully equiaxed grain without direction to ensure better film uniformity in a large scale sputtering process.
Application
Resistor/ Terminal electrode layer: Ni-Cr alloy, Cr, Ni, Ta, Cu, W-Si.
Customization multielement alloy: Ni-Cr, Ni-V, Ni-Ti.
Quartz oscillator: Ag, Ag alloy, Ni, Cr, Au.
Rectifier diode: Ni-Cr alloy.
Advantages
Manufacturing for binary or multielement alloy and customization target.
Homogeneity of alloy component and grain structure to obtain the deposition film uniformity.
Capability of powder metallurgy and prealloying powder which can prevent alloy segregation and keep stable quality